Greenwood PTA Reflections Offering
Posted: | Updated: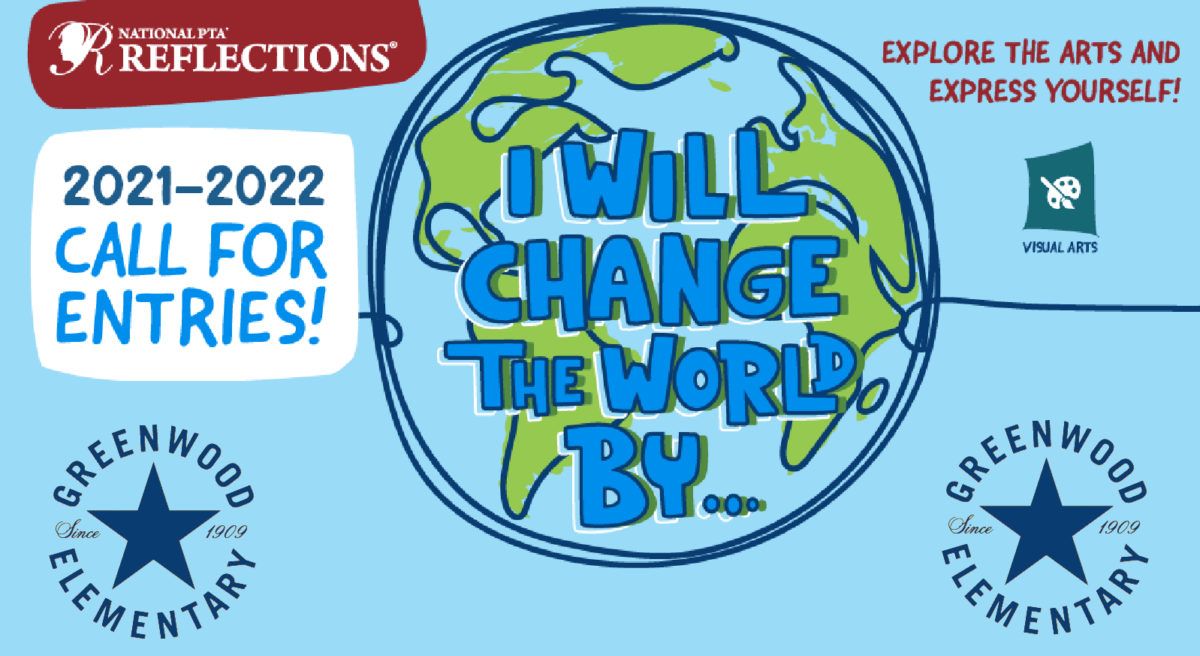 How To Enter
Use the arts to share your personal Reflections on this year's theme: I Will Change the World By…
Submissions are due to Your Teacher by 11/19/21
Experienced artists will review your work for interpretation of theme, creativity and technique. We look forward to celebrating your artistry and achievement in the arts
Visual Arts: Works of both fine and design arts are accepted, including but not limited to: architectural drawing and models, ceramics, collage, computer generated images and graphics, crafts, drawing, fashion clothes and jewelry, fiber work, mixed media, painting, printmaking and sculpture. Use of copyrighted material is prohibited. 2D artworks must be mounted on sturdy material and no larger than 24×30 inches with matting. Framed entries are not accepted. Include one digital image of artwork with your submission. 3D artwork submissions must contain 3 digital images of artwork at different angles. Image(s) are used for artwork identification, judging and exhibition purposes. Accepted file formats: JPEG, JPG, and PNG.
Please e-mail your images with your Student Name, Grade and Homeroom Teacher to artmusicmovement@greenwoodpta.org.

Official Rules
By submitting an artwork to the "National PTA Reflections Program," entrants accept and agree to be bound by the official rules for participation as well as the entry requirements for their specific arts category and division. Additional state program requirements may apply. Any violation of these rules may, at PTA's discretion, result in disqualification. All decisions of the reviewers regarding this program are final and binding in all respects. (The "PTA" referred to in these rules include all PTAs reviewing the submission).
ELIGIBILITY. Students must participate through a local PTA/PTSA. Each student's eligibility is determined by the state and local PTA/PTSA. A student may develop an entry inside or outside of school.
ARTS CATEGORIES. There are six arts categories—dance choreography, film production, literature, music composition, photography and visual arts. Students may enter the National PTA Reflections Program in one or more arts categories. See each arts category rules for additional entry requirements.
GRADE DIVISIONS. Students may enter in the appropriate division for their grade (Primary: Preschool-Grade 2; Intermediate: Grades 3-5; Middle School: Grades 6-8; High School: Grades 9-12; Special Artist: All grades welcome). The Special Artist Division welcomes students from all grades and abilities and offers non-artistic accommodations (e.g. adaptive technology; transcribing) for students to participate fully in PTA Reflections. New this year, WSPTA offering Special Artist Elementary Division for grades preschool-5th grade and Special Artist Secondary Division for 6 -12 grades. Assistants must refrain from being involved in the artistic process (e.g. developing an artist statement, choreography, music lyrics, storyboards, etc.) Student recognition and awards are announced as part of the Special Artist Division.
HOW TO ENTER. Entrants must submit their artwork and student entry form to their local PTA/PTSA program according to local and state PTA procedures. Entrants must follow requirements and instructions specific to each arts category and division. Contact local PTA programs for deadlines and additional information.
ENTRY REQUIREMENTS. (All participants must also follow arts category and if applicable, Special Artist Division rules)

Only new pieces of artwork inspired by the current year's theme may be submitted.
Each entry must be the original work of one student only. An adult may not alter the creative integrity of a student's work. Because the program is designed to encourage and recognize each student's individual creativity, help from an adult or collaboration with other students is not allowed except in the Special Artist Division. Other individuals may appear in or perform a student's work, but the work itself must be the creative product of one student only. Only one student may be recognized as the award recipient for each entry. See the specific arts category rules and special artist division rules for details.
Each entry must contain a title and all entries must include an artist statement. The artist statement communicates what inspired the work, how it relates to the theme, and the content of the work. The statement must include at least 10 words and not exceed 100 words.
Use of copyrighted material is prohibited, except for background music in dance choreography and film production entries. If used in dance choreography and film production entries, background music must be cited on the entry form. Plagiarized entries will be disqualified. Use of PowerPoint templates are prohibited.

FINALIST SELECTION AND NOTIFICATION. Entries are reviewed at local, regional, state and national levels. Each PTA determines its own reviewers for the program. Entries will be reviewed primarily on how well the student uses their artistic vision to portray the theme, their originality and creativity. The National PTA Reflections® program makes no restrictions on content or subject matter in artwork submitted by the local, regional or state levels. National PTA reserves the right to use its sole discretion in selecting the submissions to be recognized at the national level. Under no condition may parents or students contact a reviewer to dispute the status/score of any entry. Each PTA in its sole discretion will select finalists for exhibition and provide awards/prizes. Awards are announced per local and state procedures. National awards and events are announced May 1, 2022 at PTA.org/Reflections.
OWNERSHIP AND LICENSE. Ownership in any submission shall remain the property of the entrant, but entry into this program constitutes entrant's irrevocable permission and consent that PTA may display, copy, reproduce, enhance, print, sublicense, publish, distribute and create derivative works for PTA purposes. PTA is not responsible for lost or damaged entries. Submission of entry into the PTA Reflections program constitutes acceptance of all rules and conditions.
PARTICIPATING ENTITIES. This program is administered by the National Parent Teacher Association (PTA) and PTA affiliates. Parent groups not affiliated with National PTA are not eligible to sponsor this program.
Visual Arts – Category Guidelines
Entries are due Nov. 19. Entries will be collected by teachers or can be placed directly in the main office.
VISUAL ARTS include many art forms that are visual in nature. The artist (student submitting entry) is a person who captures their own thoughts and ideas to create a visual piece of art.
Accepted forms of visual art include: Architecture (2D/3D), carpentry, ceramics, collages, photographic collages (multiple photos cut/pasted), computer-generated image, crafts, design, dioramas, drawing, fiberwork, jewelry, kites, metal etching/punch work, mobiles, painting, printmaking, sculpture and wind chimes. Reproductions or enlargements of other artwork are not accepted.
Reflect on the 2021-2022 Theme: I Will Change the World By…
An explanation of the art form might be a useful addition to the artist statement. Whether an entry displays use of formal technique or a simple approach, it will be judged primarily on how well the student uses his or her artistic vision to portray the theme, originality and creativity.
Copyright: Use of copyrighted material, including any copyrighted cartoon characters or likeness thereof, is not acceptable in any visual arts submission, with the following exceptions:
Visual artwork may include public places, well-known products, trademarks or certain other copyrighted material as long as that copyrighted material is incidental to the subject matter of the piece and/or is a smaller element of a whole. The resulting work cannot try to establish an association between the student and the trademark/business/material, or influence the purchase/non-purchase of the trademarked good.
Visual arts collages may include portions of existing copyrighted works, such as photographs, magazine clippings, internet images and type cut out of a newspaper, as long as those portions of copyrighted works are used to create a completely new and different work of art. Submission Requirements:

Only new pieces of artwork inspired by the theme may be submitted.
Each entry must be the original work of one student only.
2D artwork (e.g. painting)

Dimensions must not exceed 24×30 inches, including matting.
Paper entries must be mounted on sturdy material.
Include one digital image of artwork with your submission.

3D artwork (e.g. sculpture)
• Must include packaging materials and 3 photos of the entry (a combination of angles) for judging, ID and
exhibition purposes (entries that require assembling/repairing from transporting will be disqualified).
Framed artwork and artwork containing loose materials is not accepted. Matting is accepted.
Label back of entry/entry packaging with student name, title of artwork, arts category and division.
Submit artwork and student entry form according to your PTA's instructions.
• Accepted file formats: JPEG, JPG, and PNG.
Artistes Visuales – Pautas Específicas
Las inscripciones vencen el 19 de noviembre. Las inscripciones serán recogidas por los maestros o pueden colocarse directamente en la oficina principal.
Las ARTES VISUALES incluyen muchas formas artísticas que son de carácter visual. El/la artista (el estudiante que postula la obra) es una persona que captura sus propios pensamientos e ideas para crear una pieza visual de arte.
Las formas de arte visual aceptadas incluyen: arquitectura (2D/3D), carpintería, cerámica, collages, collages fotográficos (varias fotos cortadas/pegadas), imágenes generadas por computadora, artesanías, diseño, dioramas, dibujos, obras con fibras, joyería, cometas, grabados al agua fuerte, obras con punzón, móviles, pinturas, grabado, escultura y carillones. No se aceptarán reproducciones o ampliaciones de otras obras.
Reflexiona sobre el Tema de 2021-2022: Cambiaré el mundo…
Una explicación del formato artístico podría ser una adición útil a la declaración del artista. Ya sea que la obra exhiba el uso de una técnica formal o un enfoque simple, esta será evaluada principalmente por la manera en que el estudiante usa su visión artística para representar el tema, la originalidad y la creatividad.
Derechos de autor: No se acepta el uso de materiales protegidos por derechos de autor, como personajes de caricaturas o similares, en ninguna obra de arte visual, excepto por los siguientes:
Las obras visuales pueden incluir sitios públicos, productos famosos, marcas registradas u otros materiales protegidos por derechos de autor, siempre y cuando todo material protegido por derechos de autor sea secundario al tema central de la obra y/o un elemento menor dentro de la totalidad de la obra. La obra resultante no puede tratar de establecer una asociación entre el estudiante y el material comercial/protegido, ni influir en la compra/no compra del bien protegido por derechos de autor.
Los collages de artes visuales pueden incluir porciones de obras existentes protegidas por derechos de autor, tales como fotografías, recortes de revistas, imágenes de Internet y tipografías recortadas de periódicos, siempre y cuando las partes de obras protegidas por derechos de autor se usen para crear una obra de arte totalmente nueva y diferente. Requisitos para la Presentación de las Obras:
Solo pueden presentarse obras de arte nuevas inspiradas en el tema del concurso.
Cada obra debe ser original y de un solo estudiante.
Obra de arte 2D (p.ej., pintura)

Las dimensiones no deben superar las 24×30 pulgadas, incluyendo la estera.
Las obras de papel deben montarse sobre un material rígido.
Incluye una imagen digital de tu obra con tu presentación.

Obra de arte 3D (p.ej., escultura)
• Debe incluir materiales de empaquetado y 3 fotos de la obra (una combinación de ángulos) para su evaluación,
identificación y exhibición (las obras que requieran ensamblado/reparación debido al transporte serán descalificadas).
No se aceptarán obras enmarcadas y que contengan materiales sueltos. Se aceptan esteras.
Pon una etiqueta en el dorso de la obra/empaque de la obra con el nombre del estudiante, título de la obra, la categoría artística y la división.
Presenta la obra y el formulario de la obra del estudiante siguiendo las instrucciones de tu PTA.
• Formatos aceptados: JPEG, JPG, and PNG.